Congratulations to everyone who was nominated as a Volunteer of the Year. We have a wonderful school community which come together to provide an amazing primary school experience for our children.
We are very excited to share the following winner and finalists which were voted on and announced at last nights P&C meeting.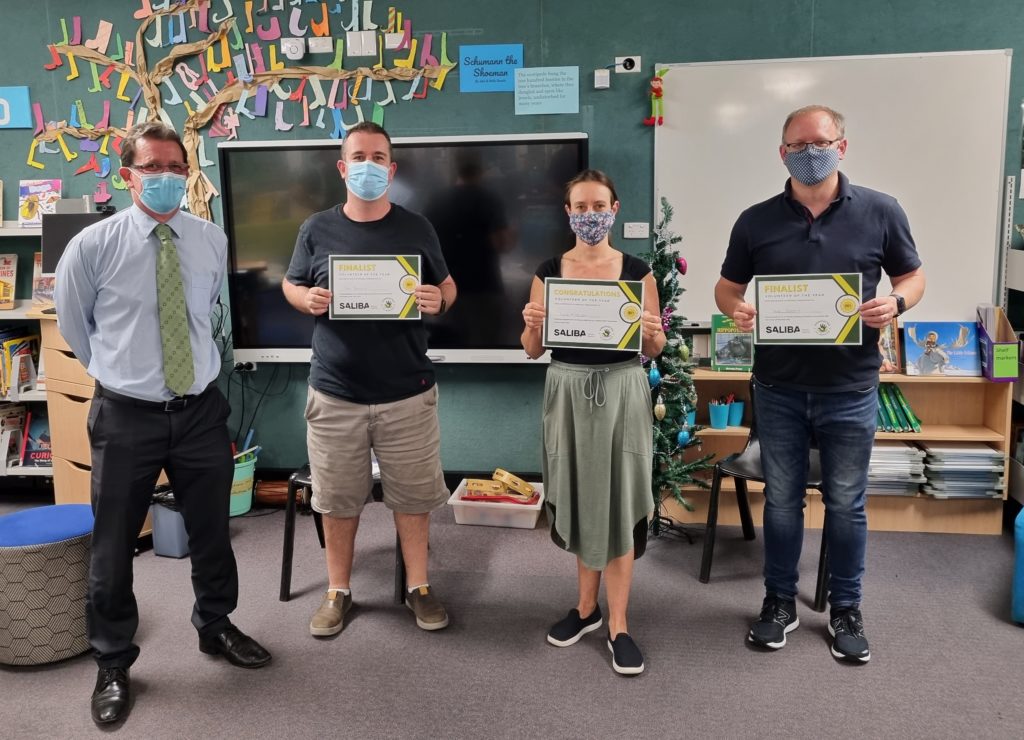 Volunteer of the Year Winner – Elena A
Volunteer of the Year Finalists – Diana R, Alex B and Stuart G
Thank you to Mr McSweeney for assisting with the voting slips and presenting the finalists and winner wither their Certificates.
A Massive thank you to Saliba Estate Agents for supporting these volunteers and Contributing a total prize pool of $500 ($200 for the winner and $100 for each finalist)

Winner and Finalist Nominations
* Hours of work behind the scenes keeping the band program running during lockdown.

* Elena has made outstanding contribution to the NWPS Band Program. In extended periods of lockdown, it has been her brilliant ideas and untiring enthusiasm that has sustained participation levels and interest of our students and community in the band program.
Music is an essential part of our children's growth, and I am grateful for Elena's support and guidance in keeping the spirit alive within our school community, included both students and parents/carers. Thank you Elena!

* Elena took over the volunteer role as NWPS Band and Strings Convenor in October 2020 and has led the Band Committee, our four school bands and Strings through very challenging times as the pandemic continued in 2021 and throughout 2022.

Elena has committed countless hours as Band Convenor working closely with our Band Director Dave Odams to keep the NWPS Band Program going through lockdowns and restrictions in 2022.

The band program kicked off again in Term 1 2022 and into Term 2 with face-to-face rehearsals on school grounds. 35 new students commenced with Training Band, 19 students continued into Intermediate Band, 39 students continued into Senior Concert Band, 19 students in Jazz Band and 5 students in Strings.

The Band Workshop was successfully held in March followed by the Band Camp in May and NWPS bands participated in the Northern Beaches Music Festival in June before the Covid outbreak shut everything down again at the end of Term 2.

Term 3 and the start of Term 4 saw all the bands pivot to online Zoom rehearsals before finally returning to (restricted) on-school rehearsals in recent weeks.

During the lockdown period Elena organised the Band Practice challenge – sourcing, wrapping, organising and personally home-delivering numerous prizes – to keep our band students engaged.

Throughout the year Elena has (with assistance from the Band Committee and Band Director) continually liaised with the School executive team regarding constantly changing health guidelines and restrictions on the bands, kept all our Band parents up to date via MSM and various WhatApp groups, negotiated conductor contracts, monitored and created band budgets and ensured that the band program continued to provide musical opportunities for our NWPS students.

Due to Elena's tireless commitment to the Band Program (and our Band Director's innovative solutions) we have lost very few band students from the Band program. As of Week 7 Term 4 we have 29 in Training Band, 17 in Intermediate Band, 33 in Senior Concert Band, 19 in Jazz band and 8 in Strings – a testament to Elena's hard work throughout the year.

*Elena has been a wonderful band convenor. During covid time, she came up with so many creative ways to keep kids engaged like practice challenge, mystery songs etc. She also hand deliver prizes. Thanks Elena for your contribution to the band community and P&C.
* Helping the P&C over the years, educating the members on good governance. Investing unlimited time to help with key P&C projects. Sharing best practices.
* For the amazing amount of work she has done to help the Uniform Shop during this year.

* Diana has done an incredible job revolutionising our Uniform Pool this year in very challenging time, She is always looking out for new ways to support any families in the community that are struggling.

* All the work she has done for the Uniform Pool.

* Made a huge difference this year as the Uniform Pool convener. Transformed the Uniform shop to look amazing. Does extra hours to keep the shop tidy and help the shop process and deliver online orders. Always preparing for the future and ensuring our parents are well looked after when it comes to school uniforms.

* Going above and beyond delivering uniform and organizing pickup etc during Covid shut down
* I nominate Alex for his tireless efforts over the last 2 years for digitising NWPS systems from introducing an online website to an online uniform website (thanks to him I can now see what uniform actually looks like!) to seamlessly integrating the multiple behind the scenes systems (emails, security, online meetings to name a few). His efforts have been further amplified when they were much used during these last few lockdowns! He started with a mission to bring digital to the forefront of P&C, and after 2 years should be so proud of where we are now, simply making it easier for parents and will no doubt leave a legacy behind.

* He singlehandedly upgraded all of our IT system, website, email, everything to be more efficient and covered for secretary role when the position is vacant. Very committed!

* Creating a safe and efficient IT infrastructure for our P&C. Makes communication easy and formalized. Continuing to help with IT when it comes to all P&C initiatives rolled out virtually.

* For continuing improving the system and IT function of P&C

* Alex has contributed enormous effort to P&C from his IT role, VP and even been acting as secretary for many months.
For everyone that dealt with Alex know he always professional in his approach and can be relied upon. P&C has gone through enormous technology transformation thanks to Alex. You never short of great ideas and has a great community spirit.