Welcome to Normanhurst West Public School canteen! Here at Normo's Nibbles we specialise in providing the freshest, most nutritious meals to help your child get the most out of their school day.

The mission of our canteen is about providing quality menu items that are low in sugar, sodium and preservatives so that every child can continue their studies calm, content and ready to learn.

Providing healthy and nutritious food at affordable prices to our families is what we strive for. 
Opening hours and online ordering
We are open Monday, Wednesday and Friday for recess and lunch.

We provided a limited over the counter menu, however, most parents place a lunch order in advance before 9am.

You can order lunch in advance through online ordering system Flexischools via website or mobile app. We recommend you familiarise yourself with its mobile app for speed and convenience. The app is user friendly and you can place orders in advance.

Volunteering
The canteen is run by a volunteer committee of parents which employs a canteen supervisor who is present at all canteen days. The canteen is staffed by a roster of volunteers from the school community who undertake to fill one shift per month. There are 2 shifts per day: 8:30 – 11:30am and 11:00am – 2:00pm. Please reach out to the canteen subcommittee for more info.
Working in the Canteen is not hard – if you can make a sandwich, boil an egg, make a cup of tea and enjoy a chat and a good laugh, then you are almost over-qualified as that's about as difficult as it gets!
Contact: Normo Nibbles FB page or normonibbles@gmail.com
Menu – Over the Counter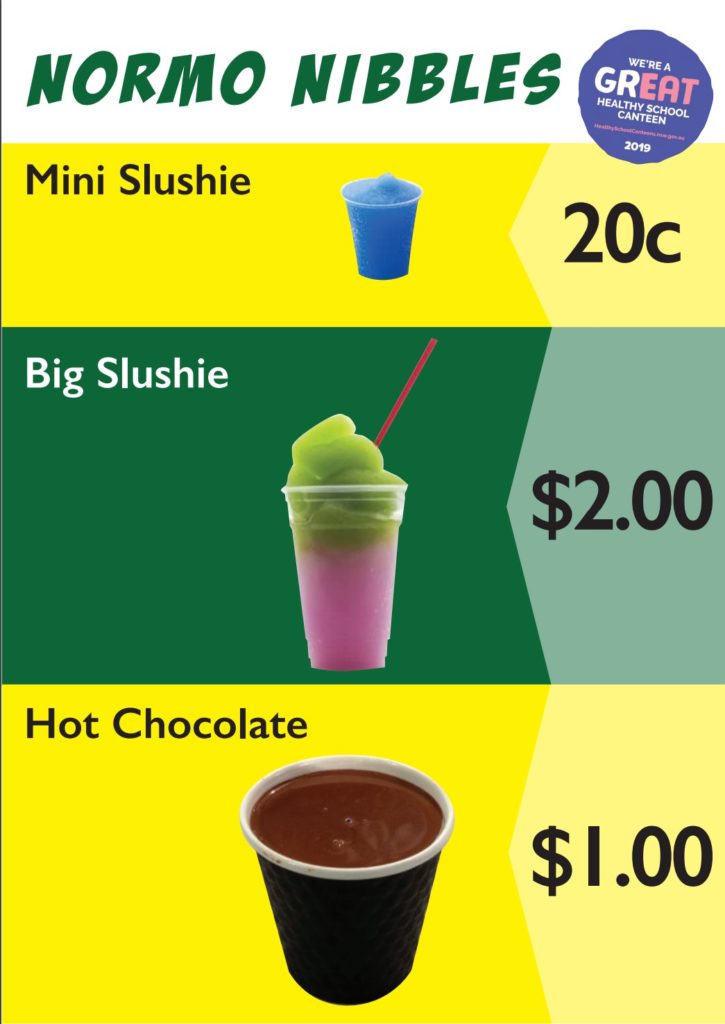 Over the counter sales are available at morning tea and again at lunchtime (after the first 10 minutes when the students are seated to eat their lunch). Ice-creams are only available at lunchtime.
Buying items from the canteen teaches your child many skills including: standing in line, selecting which items they would like to purchase, asking for what they would like as well as calculating how much money to use and their change.