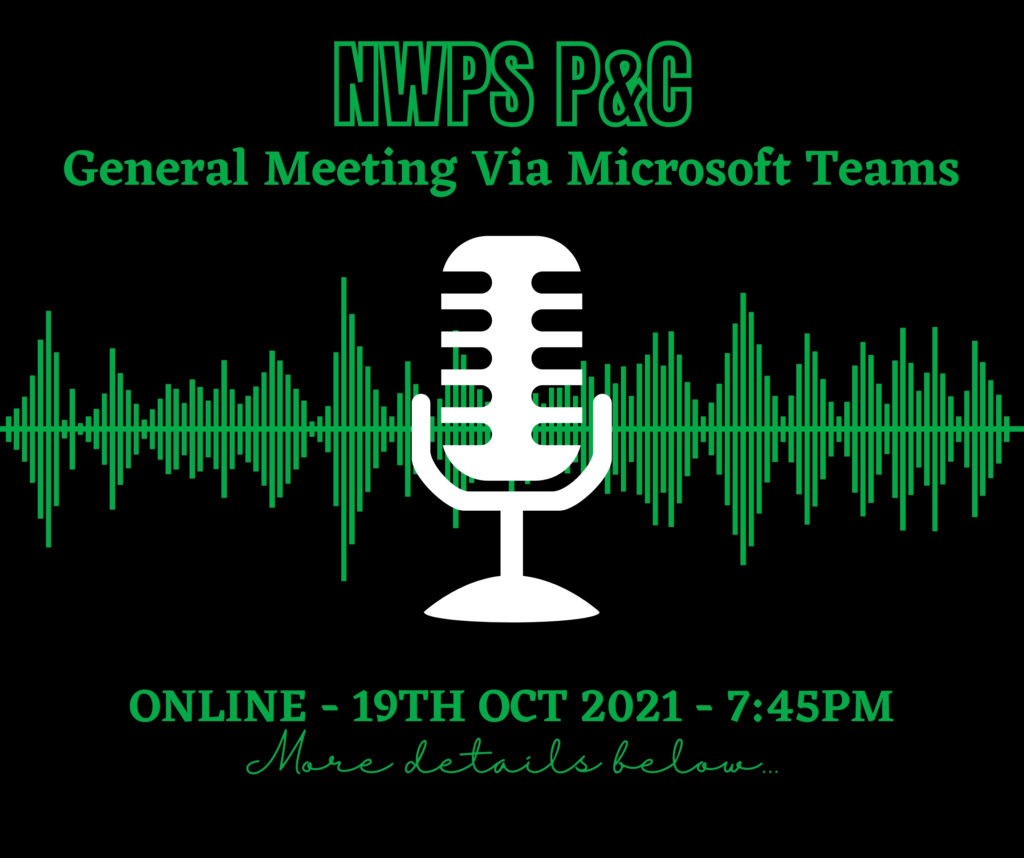 NWPS P&C Association cordially invites you to the virtual General Meeting scheduled on 19th October 2021.
This meeting will be held on Microsoft Teams. In order to ensure that the quorum is maintained throughout the meeting, the Office Bearers need to keep a track of attendees and this is easy when the members provide their name when joining the web app, desktop app or mobile app.
The best experience with Microsoft Teams is with the desktop or mobile app (you can download at https://www.microsoft.com/en-au/microsoft-teams/download-app).
Financial members will be able to vote via Microsoft Teams app (web, desktop or mobile) only and not via audio conference.
Before we can send the Microsoft Teams details, you must RSVP by emailing the NWPS P&C secretary or through our contact us page prior to the meeting. (Link requests for non-financial members will close 18th October 9pm)
Financial members have already been sent the link via email
Thank you and looking forwarding to seeing you all (virtually) on 19th October 2021.
Kind Regards,
NWPS P&C
---
Positions Vacant – Secretary
We're looking for a new Secretary to join our P&C Executive Team and help us make a difference in our school. The role has become vacant as our previous secretary has taken on more responsibilities at work. She remains an active member of our dynamic Executive Team.
As the P&C Exec Secretary, you'll be mainly responsible for monitoring incoming mail, meeting preparation and minute writing (P&C Exec and P&C meetings – 2 of each per term), become one of our office bearers and work with an energetic, bright and diverse team who make up the Executive Committee. You'll also be provided with a laptop for the duration of the role.
We are currently looking for nominations to volunteer at the upcoming general meeting. Please get in touch via the contact us page, or direct email, to request the Roles and Responsibilities document.
(This current role is until the AGM in 2022, where all roles are declared vacant)
Whether you can commit 6 months, or a couple of years, we would love to hear from you!