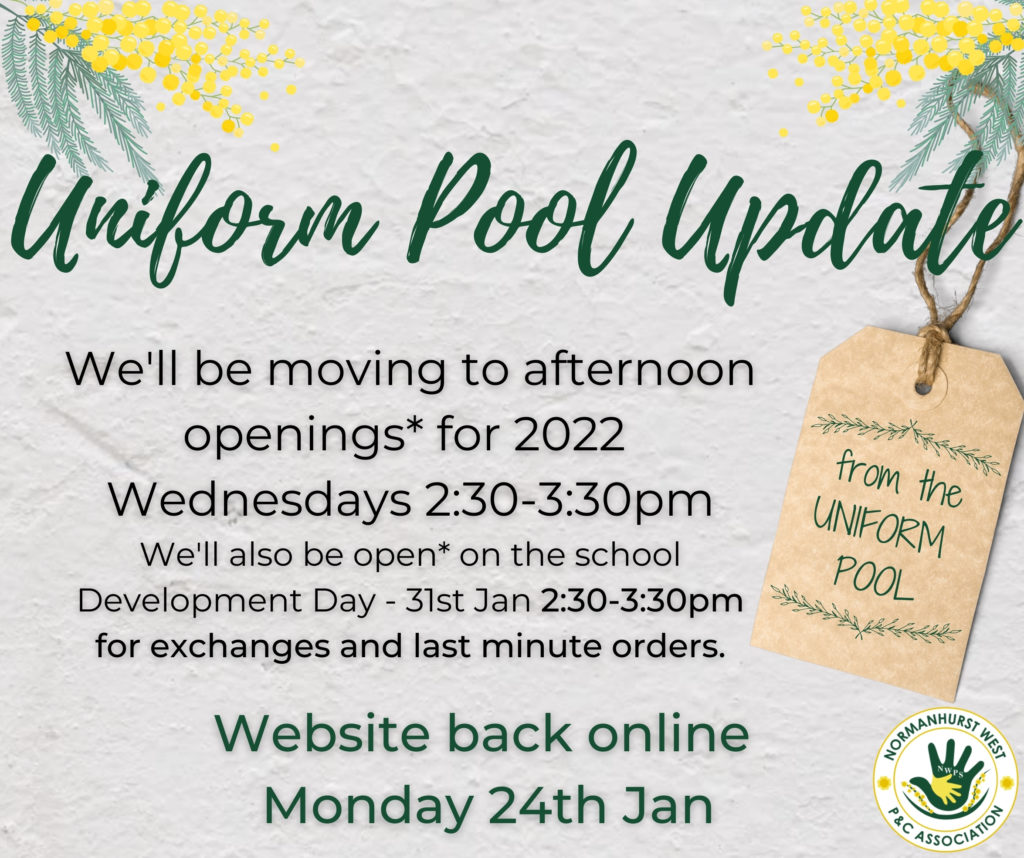 Key Dates
Mon 24th Jan: Website back online for ordering
Fri 28th Jan (9am): Order by this time for free local delivery over the weekend (29th/30th Jan). Ensure you enter your address.
Mon 31st Jan 2:30 – 3:30pm: Uniform Shop open for over the counter sales, exchanges, returns. If you need to pick up new uniforms – please order beforehand for faster service. (No fittings/Try-ons available in this session)
Wed 2nd Feb 2:30 – 3:30pm: Commencement of regular openings. Please pre-order for easy pick up. Anything not picked up will be sent to the office for in-class delivery
Covid Requirements:
*The Openings will occur if possible and be in line with Public Health Orders, Department of Education as well as the NWPS Requirements.
Ensure you use the QR Check in, Wear a mask, Use Hand Sanitiser, only attend if you're feeling well, not a close contact, not told to isolate, not positive with Covid, etc.
Should you/your family be in isolation and you require uniforms, please contact us to arrange delivery.
Backpacks
We are expecting a supply of ERGO Backpacks this week. If you require one, please send us a message or complete the backorder form so we can get in contact as soon as they come in. (Updated 24/01/2022)
Delivery:
Free Delivery Available end of Jan.
Local Delivery for February – TBA pending volunteer availability.
Second Hand Sales and Fittings:
TBA: Dependent on Covid Restrictions – please enquire via the contact us page
NWPS 2nd Hand Uniform FB Group – https://www.facebook.com/groups/596953100912308
Uniform Pool Team changes:
Our wonderful 2021 convenor, Diana, has moved out of the area and we would like to thank her for all of her hard work and persistence through another year impacted by Covid. She went above and beyond and put a lot of work into the online website, as well as making her home available for collections.
The team would like to welcome back Kristina, who was previously the convenor from mid 2017 – early 2019 to provide support as a stand in convenor until a new convenor can be found. The role has evolved with the introduction of the Uniform Pool manager and so the convenor is more in a role to oversee and doesn't need to be available for each store opening. Please get in touch if you're interested. We're happy to train and support you.
Volunteers:
We would love to meet some new faces as well as welcome back our experienced team. We have user-friendly systems and full on-the-job-training provided. Helping out in the Uniform Pool is a fantastic way to meet other parents throughout the school. Tasks include helping in the shop, twice yearly stocktake and/or deliveries. If you have 1 or 2 hours a month, or can offer to help casually, please get in touch and we can add you to our roster. Please send us a message via our contact us page