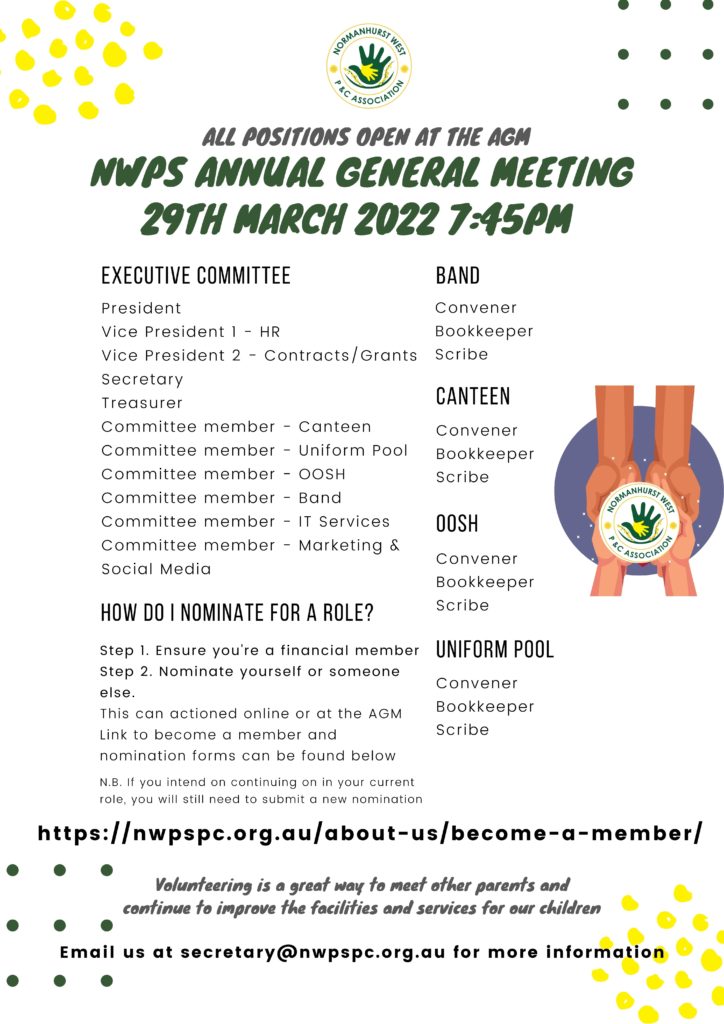 As per school executive request, the Annual General Meeting for the Normanhurst West Public School P&C Association will be held on 29th March at 7:30pm, in the School Hall or Library (not on the 22nd of March)
The AGM is the final meeting of the 2021/2022 Financial Membership year and provides summary reports and financial statements for the Association for the Year Ending December 31, 2021.
The proposed agenda for the evening is:
Welcome
Principal's Report
President's Report
2021 Financial Report
Sub-committee Summary Reports
Proposed 2021 Association Budget – including Band, Canteen, OOSH & Uniform Sub-committee budgets
Vacating of all P&C positions – including Sub-committee positions
Returning Member (Principal) to chair the meeting
Vote to have minute taker appointed for the meeting
Nominations for P&C Office Bearer positions (a minimum of 2 are required to be appointed-at this stage there are no nominations)
** The association needs a minimum of new 2 Office Bearer positions, in case they are not filled:
· no further positions are appointed at the AGM – including sub-committees
· A Special GM will be called for Tuesday, April 5th for the purpose of Appointment of Office Bearers and positions
· If a minimum of 2 Office Bearer positions are not filled by the close of the Special General Meeting, The Association and all its services will close and the Association will move to wind up all services. All existing P&C Services will then move to tender with the Department of Education.
· The AGM will close.
IF 2 OFFICE BEARERS ARE NOMINATED ABOVE, the AGM will continue as planned with:
Nominations and vote for P&C Executive Members
Nominations and vote for Sub-committee Positions
Next Meeting
Meeting closed
If any member (or any other parent) wishes to nominate for the positions, they need to:
Become a financial member of the P&C for 2022/2023, using the online form at Become a member (nwpspc.org.au)
Nominate for a position before the AGM. Nomination Form 2022/2023 (office.com)
If it is a position that interacts with children at the school regularly (e.g. band coordinators) then they also will require a WWC clearance
AGM Reports and documents will be shared in the next few days please contact us if you would like a copy.
Author: Executive Team